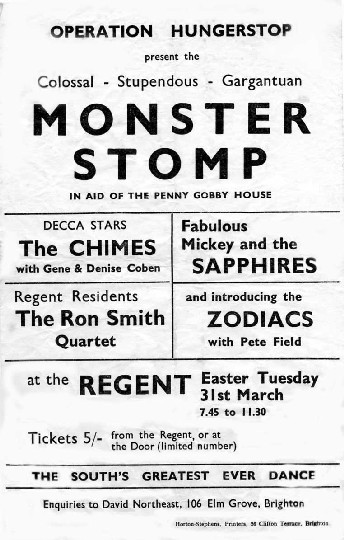 Operation Hungerstop
Operation Hungerstop was a charity committee set up by a group of Brighton teenagers in 1963 to raise money for Oxfam and similar charities dealing with world poverty and hunger. It raised money by staging a wide range of entertainment events such as dances, club nights, charity football matches and collection of telephone donations by the then fashionable "mods and rockers".
After a year or so it evolved into Operation X, with largely the same volunteer committee members, raising money for a broader range of charities. Once again, many live events were staged at such venues as the Top Rank, Regent Ballroom, Brighton Corn Exchange and King Alfred, Hove. Many of these events featured Brighton beat groups of the era such as The Sapphires, The Giants, The Chimes and The Tony Grant Group. One memorable event at Brighton's Top Rank suite featured Georgie Fame with the Harry South Big Band, and the Miss Teenage Brighton beauty contest that evening was judged by, among others, Simon Dee and Cat Stevens.
The Committee disbanded in 1968.